If you decided to buy a bean bag chair, there are some things you should take into consideration before making the final decision. In this article, we will go through them, and you will know what to look out for to choose the best quality bean bag that will keep you comfortable for years to come.
Things to consider:
Cost
Quality materials
Durability
Outdoor use
Cleaning
Filling
Comfort
The shape of the bean bag
Stitches and zippers
Health and safety
Cost
When it comes to price, bean bags are cheaper than a chair or sofa. They are an affordable accessory that will brighten up your room and make it cosier with immediate effect but doesn't cost a fortune. Of course, there are bean bags on the market with a price tag similar to a sofa set made out of gold, and they are probably worth it, but there are also cheaper models that will be of excellent quality and last you for a very long time. The price isn't everything, and you should check other things to find out if the quality someone is offering you is worth the price.
Quality materials
The quality of material used in your bean bag chair is crucial. It is meant to last for a long time and be in use every day. Suppose you have kids and pets; which is another thing to consider while choosing the right fabric. It has to be sustainable to prevent tearing. Bean bag will probably be dragged around from room to room or even outside, so it has to be made from durable fabric.
Vinyl – often used in bean bags, durable, easy to clean and maintain but in hot weather might give a sticky and uncomfortable feeling
Cotton – breathable and soft. Not stain-resistant but relatively easy to clean as it's machine washable. Also not tear-resistant, and colors might fade when exposed to UV light
Polyester – water and stain-resistant, easy to clean. Tear-resistant makes it perfect for the outdoors. The higher the strength of the fibre, the more durable and robust the polyester fabric is. Very affordable, but sometimes it might look cheap.
Leather – stylish and durable. Relatively easy to clean, but leather tends to show water stains after spilt liquid dries off. It might look worn out and creasy over time with heavy use. It's the most luxurious looking option but the most expensive at the same time.
Velvet – super soft, comfortable, and great looking. It can be an easy match for your interior design but requires a bit of maintenance when cleaning.
Faux fur – fluffy, animal friendly, and easy to clean. Usually can be washed in a washing machine on a gentle cycle. High-quality faux fur is almost impossible to distinguish from real hair.
Faux suede – easy to clean, look after, and reuse. It is more durable than genuine suede due to the plastic fibres. It is also a much cheaper option than real suede.
Marine-grade vinyl – gives excellent moisture resistance and increases sanitation as it prevents the growth of fungus and bacteria on top of the material. Marine vinyl also offers protection against the sun's ultraviolet (UV) light.
The material is resistant to staining. That makes the cleaning and maintenance much more manageable. It will be safe to keep the marine-grade vinyl bean bag next to your pool and leave it there for the night.
Durability
We all need bean bags that will last for years. If you are spending money, it's expected that the product you get will be durable. Nobody wants to have a bean bag chair that will tear after a couple of uses.
You probably have a garden or patio that you would like to use the bean bag too; therefore, they need to be durable to tackle the weather. A good quality cover will prevent tearing the material and spilling the filling from inside.
Outdoor use
Some bean bag chairs are made specifically to be used outdoors. They need to have a strong outer coating to be able to resist the changing weather.
The fabric needs to have multiple features like:
Waterproof or water-resistant
Tear-resistant
Mold-resistant
Dirt-resistant
UV light resistant
The best fabrics to use outdoors are vinyl, marine-grade vinyl, and polyester. Easy to clean and ready to tackle lousy weather. Polyester and vinyl are great for both indoor and outdoor use. You can use them outside to sunbathe or as an extra seat when friends are coming over for a barbeque.
If you have a pool and want to use the bean bags near it, read more about waterproof bean bags in our article here.
Cleaning
Maintenance of your bean bag is a big thing. It should be relatively easy and effortless. The last thing you want to do is to spend all day cleaning the bean bag chair.
Some bean bags come with an outer cover and inner liner. This is an excellent solution as the filling is always safe inside the inner liner, you can wash the outer cover, and there are no spills from the inside of the bag. Most covers are machine washable, making the task much more manageable.
Some bean bag chairs do not have the inner filling; therefore, it's essential to choose easy-to- spot-clean material. If you have a velvet bean bag spilt on with wine and no inner lining, cleaning will be a nightmare.
Filling
There are different types of fillings for bean bag chairs. Knowing more about them will help you decide which one is the most suitable for you. Here are the three most popular filling used in bean bags
EPS (Expanded Polystyrene) – the most common bean bag chair filler. They are lightweight, strong and rigid enough to retain their form for several years. The sizes of polystyrene beads used in bean bag chairs are 3mm to 5mm in diameter. They are resistant to heat and moisture and are 98% air. If you need to replace the beads, it is recommended to go for virgin ones rather than recycled beads, as recycled ones have a shorter lifespan.
EPP (Expanded polypropylene) – solid, strong beads made from thermoplastic polymer. It has many benefits: impact-resistant, lightweight, recyclable. EPP foam is very resilient, meaning that it will come back to its original shape very quickly when it is crushed or compressed without losing its cushioning abilities. The biggest problem with EPP is that it is very prone to fire and burning. It will also degrade fast when exposed to oxygen.
Compressed foam – also known as memory foam. Very comfortable and easy to transport as it can compress to about one-quarter of its original size. In bean bags, the foam is usually found as offcuts; therefore, some people might find it annoying when the large foam pieces are not creating a smooth surface.
Comfort
Choosing comfortable bean bags is the ultimate goal.
– It is supposed to keep its shape over time and remain fluffy.
– Bean bag chairs need to support your body weight but also your back and neck.
– They will contour your body's shape and help with your joints.
– Don't overfill the bag with filling as that won't make it comfortable. Beads inside need the room to move around and enable you to get comfortable while sitting. 2/3 of the bag is recommended as a perfect amount of filling.
– Bean bags should be firm enough for you to stand up from a sitting position easily. Even if not filled to a maximum capacity, bags shouldn't be soggy and give you the feeling like you are sinking in.
– If you are looking for lying down or sleeping on your bean bag, then a lounger is the best for it. More space will provide more comfort and relaxation for your body. You can find out more about bean bags as beds here.
The shape of the bean bag
Bean bags evolved so much within the years it's surprising how many shapes are available. The most popular ones are, of course, round and a teardrop shape. There are also square, rectangular, pear shape, L shaped like an armchair, sofa shaped (two or three-seater), giant bean bag chair to use as a bed and poufs. Certain shapes can provide more back support than others.
Sizes start from small ones for kids up to giant ones you can use as a bed. They have so many shapes and sizes you can always find something to match your home and style.
Whether it is a kids room, gaming room or your bedroom, there is a bean bag chair to fit in and make your home more cozy and comfortable than ever before.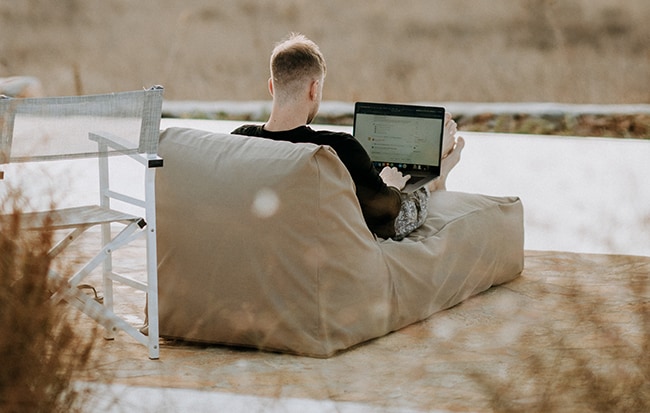 Stitches and zippers
Another crucial factor to look out for when choosing a bean bag is the quality of stitches and zippers. Stitching needs to be double, and even with strong thread to prevent tearing up the bag. The last thing you need is your bean bag to open up, causing the filling to spill everywhere.
When it comes to zippers, they are a significant part of the bean bag. They allow you to put fillers in and out or take off the outer cover to wash it. The zipper needs to be strong to hold the pressure when you sit or lie down on the bean bag chair.
Zipper locks have to be hidden under the fabric, preventing kids from opening them and protecting the floor when you move bean bag chairs around.
Health and Safety
Bean bag chairs need to adhere to specific requirements and regulations to guarantee that they are not dangerous to your health. You want to find out exactly
– what material it is made of, and is it flame-retardant
– what is it filled with
– does it have a child safety zipper
– does it come with a warranty
– have double stitching to prevent tearing and leaking of filling into your home
– if you interested in vinyl bags, make sure they are lead-free
When you are buying a bean bag chair for your home, it has to be safe to use for you, your kids and your pets. You must thoroughly check your bean bag when it arrives in your home to ensure all the things we talked about above are in place. It is also worth checking the bean bag manufacturer if you need to contact them if you have any issues.
Final thoughts
We have gone through many factors you need to consider when looking for a good quality bean bag. Hopefully, after reading this, you will be able to decide on a high-quality bean bag that will last you and your family for years. There is plenty to choose from the market, but bean bags can be pricey, so make sure the price equals high quality.
Recent Posts