Would you like to give your old bean bag a new, fresh look? Are you looking for something to store your kids' fluffy toys that don't take much space?
You need a bean bag chair cover!
But first, let me quickly explain what a bean bag chair cover is: A Bean bag cover is a big empty sack, usually made from fabric. Inside, you can put pretty much everything starting from bean bag fillers like PVC pellets up to kids' toys or clothes. It's the outer bag for the filling inside. Bean bag chair cover comes in different shapes and sizes and is made from various materials to suit your needs.
What materials are bean bag covers from?
There are different types of bean bag cover materials, such as:
Cotton
Polyester
Faux suede
Faux fur
Leather
Faux leather
Velvet
I have made an easy overview of all the most popular materials and their top characteristics in the table below:
Bean Bag Cover Materials Table
| Material | Easy to clean | Waterproof | Outdoor | Recyclable | Affordable |
| --- | --- | --- | --- | --- | --- |
| Cotton | ✔ | ✖ | ✖ | ✔ | ✔ |
| Polyester | ✔ | ✔ | ✔ | ✖ | ✔ |
| Faux Suede | ✔ | ✖ | ✖ | ✖ | ✔ |
| Faux Fur | ✔ | ✖ | ✖ | ✖ | ✔ |
| Leather | ✔ | ✖ | ✖ | ✔ | ✖ |
| Faux Leather | ✔ | ✖ | ✔ | ✖ | ✔ |
| Velvet | ✖ | ✖ | ✖ | ✖ | ✔ |
Cotton bean bag cover
Classic cotton cover everyone loves. It's soft, stretchable, breathable, and easy to clean. If you are looking to store your kid's old plush toys inside, cotton is a great choice. When it gets dirty, you can pull out the filling and put it in the washing machine.
It gives your skin a great feeling and will make your seat comfortable just by looking at it. It's worth knowing that color is dyed in the factory into your cotton bean bag cover, and therefore it's best to avoid direct sunlight as the color will fade away.
Polyester bean bag cover
Polyester is a synthetic oil-based material, making it naturally water-resistant, hence easy to clean. This feature might be particularly favoured for a house with children or for an outdoor use, as it is also tear-resistant.
The only potential downside is that it's not biodegradable, as it includes both natural and synthetic chemicals. However, this also means it's very durable, and as it's affordable this can be a great potential purchase.
Faux Suede bean bag cover
Faux suede is an animal-friendly material made from polyester microfiber. It is the 'fake' suede. If you show both real suede (made from animals) and faux suede, many people have difficulty telling the difference.
It is more durable than genuine suede due to the plastic fibers. Faux suede is low maintenance which makes this fabric easy to clean, look after and reuse. It is also a much cheaper option than the real suede.
Faux suede is recommended for indoors only.
Faux fur bean bag cover
Faux fur, also called fake fur, is designed to replace real animal fur. Current technology can make a high-quality faux fur which makes it impossible to distinguish from real. You can hand-wash or machine-wash faux fur but put it on a gentle cycle for the best results.
The fluffy bean bag chair will look great in any room and gives a nice, real feeling of the fur being animal friendly at the same time.
Leather bean bag cover
If you already have some leather furniture at home, a bean bag from the same material will look just like another classic piece of your living room. Leather materials work great for bean bags as their strength comes from the leather itself. It can be tanned for any color so it can match the furniture you already have in your house.
You must remember that your leather bean bag cover might look worn out and creasy over time and with heavy use, which is not great if you value esthetical looks. If you want to keep your leather bean bag outside, it is worth remembering that it can start cracking after direct sun exposure.
When it comes to cleaning, it's reasonably easy to wipe away the dust and dirt, but leather tends to show water stains after spilled liquid dries off. It will give your house a luxurious look but at the same time is one of the most expensive fabrics to buy.
Faux leather bean bag cover
If you don't want to spend a fortune to match your leather furniture or are not after materials made from animals, then faux leather is perfect. Synthetic leather is durable and long-lasting; it's also not prone to cracking or peeling like natural leather. When exposed to the sun, the color won't fade away so easily.
Faux leather is stain resistant, and therefore when it comes to cleaning, light wiping away is all you have to do. Unlike real leather, faux leather does not retain moisture, so the cover will not become cracked.
Synthetic leather reflects the same visual realistic appearance and quality. It is also easier to cut and sew than real leather making needle marks and threads less noticeable.
Since it's a lot cheaper and only imitates the real leather, it is not tear-resistant.
Velvet bean bag cover
Velvet covers are super soft, which makes them feel fantastic when you are sitting on them. Velvet can carry the extra pressure bean bags require compared to traditional furniture.
They come in many colors, and they can be an excellent match for your velvet curtains or drapes if you already have some in your house.
When it comes to cleaning, the velvet material requires quite a bit of upkeep to keep it looking great. The best way is to take it to a professional cleaner to maintain a good look of your velvet bean bag chair cover.
How to choose the right size of bean bag cover?
The next thing to consider is the size of the cover. How are you supposed to know how big of a bean bag chair cover to get? Let me help you.
When you are buying a bean bag chair cover, you probably want to use it for your old bean bag. The easiest way to measure it is to lift your bean bag and measure from top to bottom and then from side to side. (See the picture below)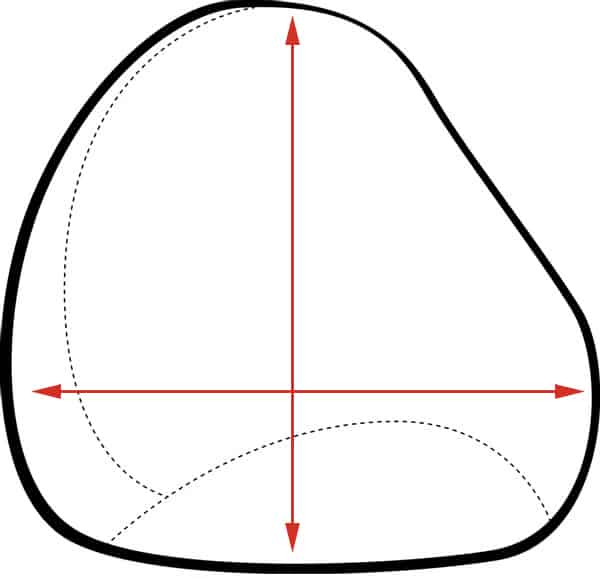 When you are buying online, usually every seller has different measures for different sizes. If you choose what material you are having, you can measure your bean bag to see if the size is available.
If you are shopping online and getting the option of bean bag chair cover only, remember it will arrive empty, you need to purchase filling for it separately.

Top Tip
How much filling do you need for your bean bag cover? Read more here. (link)
Storage Bean Bag Cover
Bean bag chair covers can also be great storage for multiple things. It will also work if you have many pillows, throws, or blankets that you do not use. Put them inside of the bean bag cover, and you are done! And there is an extra seat or a comfy footrest everyone will want to use.
It can be an excellent gift for kids or teenagers who are too attached to their plush toys and don't want to throw them away but also want their room to look more' grown-up.'
Bean bag chair covers for kids' toys are made with a long zipper to make stuffing the bag easy. You can store a lot of toys depending on the cover's size and declutter your kids' room and give them a nice, comfy seat at the same time.
Conclusion
All the bean bag covers come with different pros and cons; it depends on what you are looking for. If you are after breathable and easy to clean, cotton would be an excellent choice for you. If waterproof is your goal, then polyester might be the one. If you are looking for something to upscale your space then super soft velvet, or luxurious leather will do it.
There are plenty of bean bag chair covers that will make your home look and be more comfortable than ever before. As the bean bag chair cover will create a comfortable seat that is hard to resist after a busy day.
Recent Posts